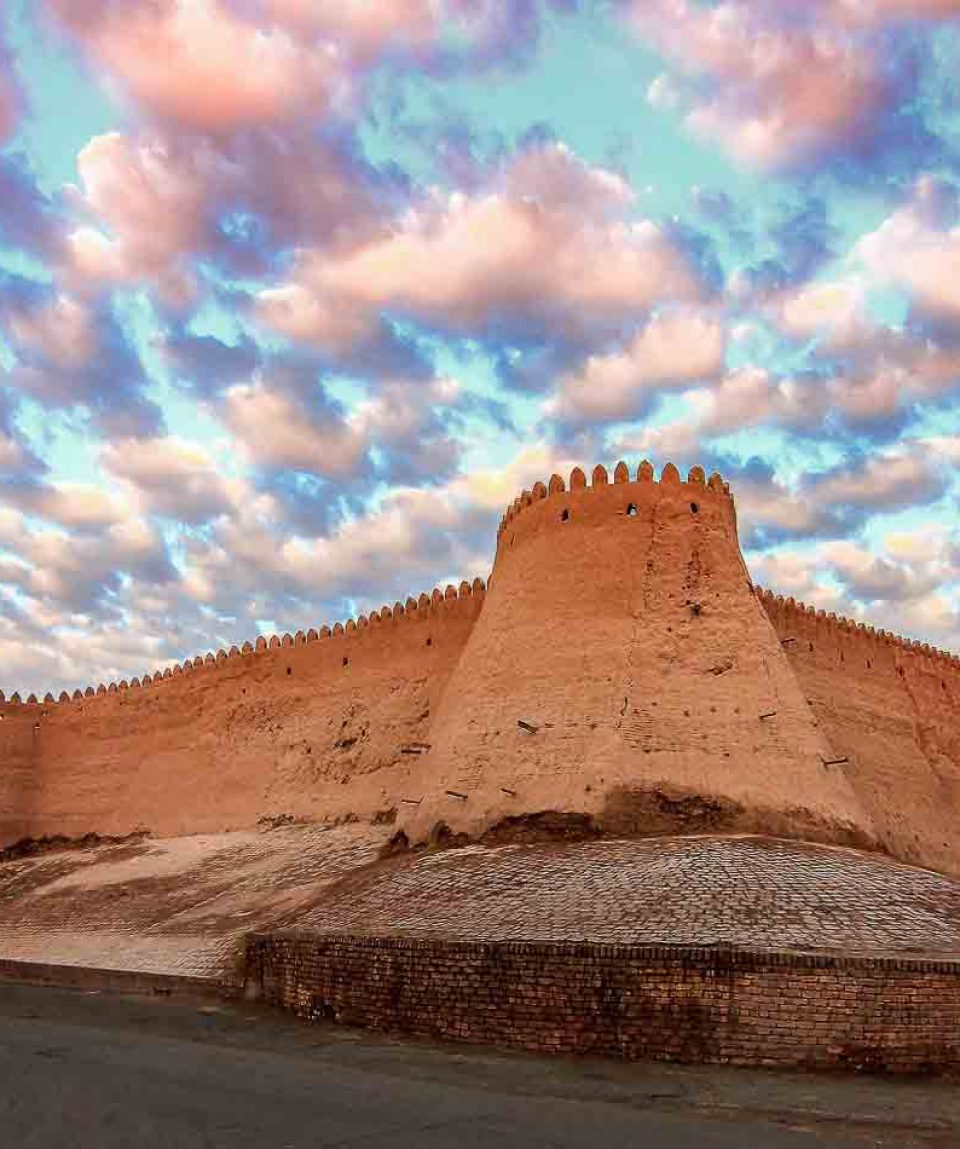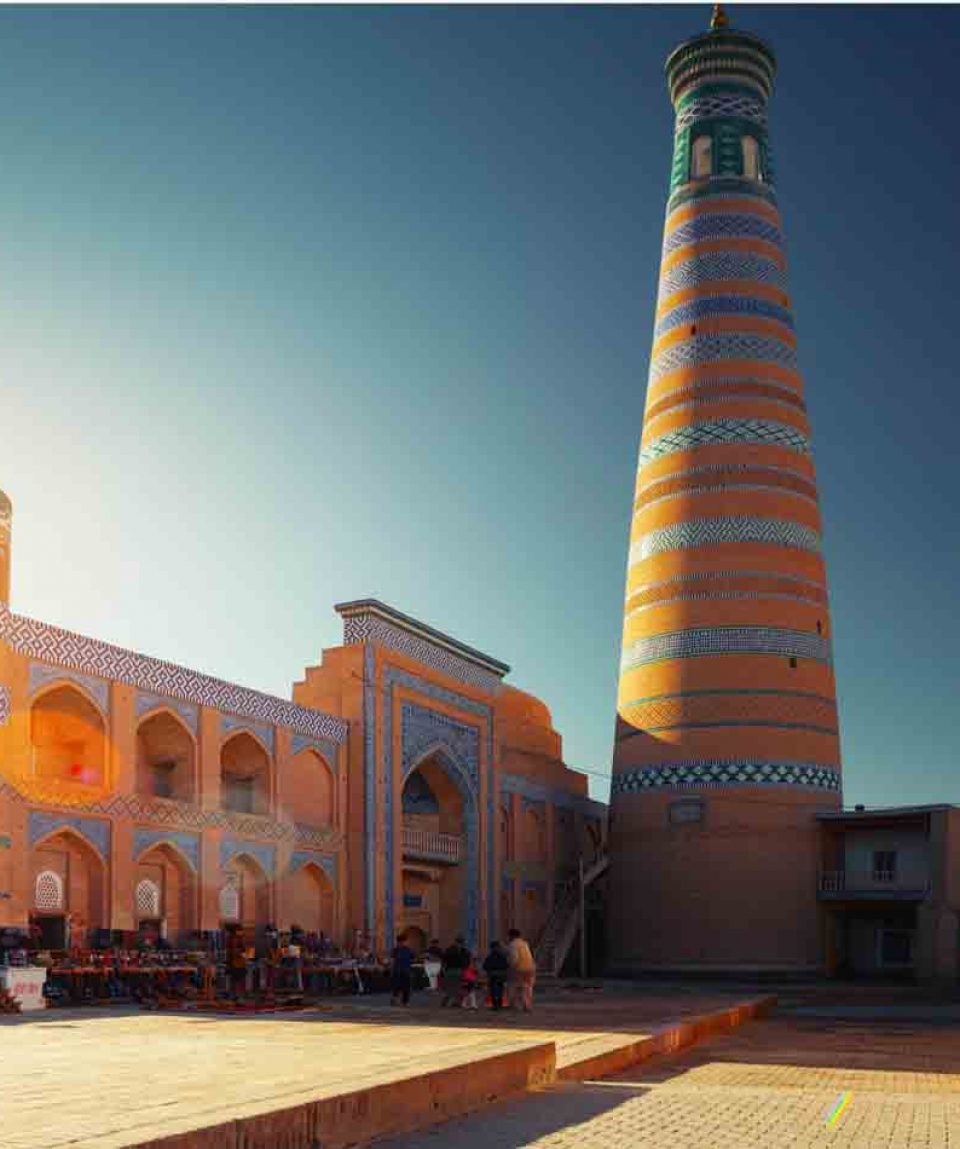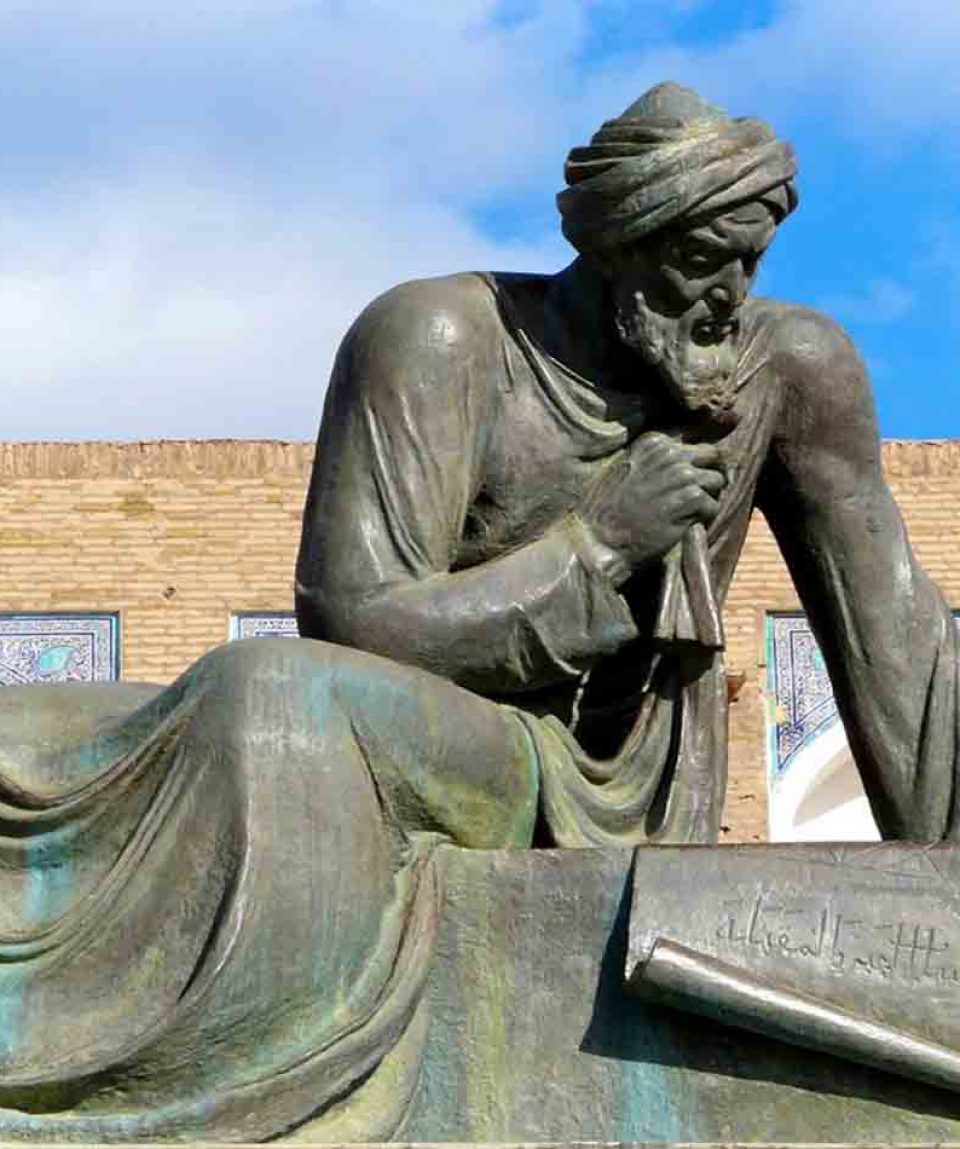 Khiva City Tour by Train 1N/2D
Discover the Khiva City Tour by Train, It's 1 Nights-2 Day Tour Package Covers Tashkent-Urgench-Khiva
Vacation Style Holiday Type

Cultural Tours, Short Breaks/Weekend Tours

Activity Level

Fairly Easy
All about the Khiva City Tour by Train 1N/2D.
With Silk Road Travellers, discover the best of Central Asia, Khiva City Tour by Flight. We offer a range of Khiva City Tour by Flight that take you through the varied culture, religion, architecture, train tour, customs and tradition of various Central Asia Country and states. Uzbekistan is enriched with cultural heritage that draws tourists from in and out of country in a large number.
Khiva – a perfectly preserved oasis city near the Kara Kum desert not far from Khorezm. It was the largest city in the desert area of the Silk Road, in the XIX century. Its history and historical significance goes far back in past, when even the Silk Road was not paved. According to legend, the birthplace of Zarathustra (Zoroaster), the founder of fire-worship is this city. True or not, but this religion flourished here for 1.3 thousand years, starting with the IV. BC, have a significant impact on the development of Judaism, Christianity, Islam, and even Buddhism. Artists and architects of Khiva were famous for their skill and aesthetic perfection of their construction with exquisite carvings and elegant ornaments are astonishing up to this day. The oldest part of the city – Ichan-Kala – surrounded by walls 10 meters high at the western gate of Ichan-Kala is located citadel Kunya ark.. Inside – narrow streets with houses with flat roofs, mosques, palaces, minarets here longer than any other city in Central Asia – and all the buildings complement each other.
The appearance of modern forms of Khiva is mainly the architecture of Khiva Khanate period end XVIII- XX centuries. But here the ongoing archaeological excavations show that the basis of a number of relatively "young" are layers of ancient buildings which related to III AD, and even earlier centuries BC. e
Khiva – a unique example of an original pre-Soviet Central Asian city, a true open-air museum.
The tour package inclusions and exclusions at a glance
What is included in this tour?
Items that are included in the cost of tour price.
Accomodation in 3* hotel in Khiva city
Daily 2 water bottles 0.5L per person;
2 dinners in train.
Services of Professional French/English/Russian/Turkish etc. speaking tour guides in all cities;
All trips & transfers in comfortable bus as per the itinerary;
Tashkent-Urgench, Urgench-Tashkent compartment class train ticket;
All fees to monuments as per the itinerary;
All Taxes
Whats not included in this tour.
Items that are not included in the cost of tour price.
International Air tickets;
Late Check out and eacly check in;
Lunches and Dinners
Charges in hotels for additional services;
Photography and video making fees at the sites;
Personal insurance;
Tips and gratuities;
Any services not included in the above itinerary.
Day1

Tashkent- Departure

19:00 Transfer to Tashkent Railway Station
20:15 Train Departs from Tashkent
Overnight in Train (compartment class)
meal: dinner is provided in train.

Day2

Urgench- Khiva

12:55 Arrival in Urgench city and transfer to Khiva. (35 km-40 min.)
Check in hotel andTake rest.
Enjoy walking night inside Ichan Kala fortress.
Overnight in Khiva at hotel.

Day3

Khiva- Tashkent

08:00-09:00 Breakfast in Hotel
09:30 Check out from hotel and visit Itchan-Kala Fortress : Mukhammad Aminkhan Madrasah(1851-1854), Mukhammad Rahimkhan Madrasah(1876), Kalta-Minor(1855), Kunya-Ark(XVII-XIXc), Juma Mosque (XVIIIc), Tash-Khovli Palace (XIXc), Pakhlavan Makhmud Mausoleum (1701), Minaret of Islam-Khoja(XiXc).
In the afternoon drive to Tozabog (1897)- Summer Place of Khiva Emirs.
15:00 Transfer to Urgench railway station
16:25 Train moves from Urgench
Overnight in Train (compartment class)
meal: dinner is provided in train

Day4

Arrival in Tashkent

09:55 Arrival in Tashkent and transfer to hotel/any destination in Tashkent city
End of the tour!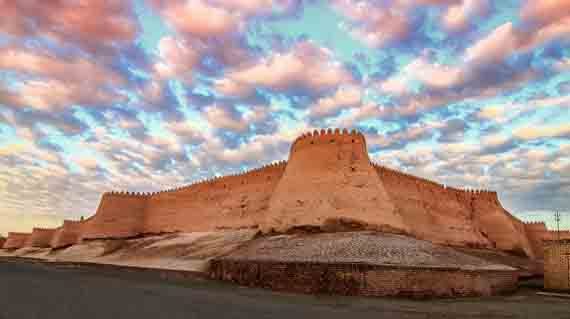 Malika Kheivak, Orient Star, Malika Khiva, Old Khiva
Malika Hotels in Khiva: Malika Khiva, Malika Kheivak and Malika Khorezm are three modern hotels built in national style represent famous chain of Malika hotels in Uzbekistan.
Malika Khiva Hotel opened in May, 2004. It is situated directly opposite the main Ata Darvaza gates of the Ichan Qala. It has the indisputably best view in all of Khiva!
Malika Kheivak is a new hotel, built in 2008. The hotel is located in the center of Ichan Qala, the historical fortress of Khiva, next to the Islam Khoja Minaret. The perfect location, rooms in national style and very great service from the hotel's staff makes it the perfect place to stay while visiting Khiva.
Malika Khorezm Hotel is located one block from the gates of the ancient old town of Khiva near the Art Museum. The decor of each hotel is classic Uzbek and cozy. The authentic Uzbek and European cuisine is unforgettable.
The Orient Star Khiva is one of the most unusual hotels located in Central Asia It was built in mid 19th century, and for almost 50 years over 250 students studied here. Guests are invited to enjoy the experienece of staying in the rooms which once where used by the school s teachers for lectures and its students for living and studying. The hotel has impressive decorations, a vast restaurant and bar onsite. Nowadays, madrassah is functioning as a hotel and welcomes tourists from all over the world. The spirit of old times hovers in every corner of the hotel. Experts and amateurs of the history highly appreciate the unique structure of the building, which even in the hottest day preserves coolness. There is an eastern chayhana in the center of the specious and colored yard with beautiful decorations. In the evening, there will be late dinner on the roof of the chayhana. Restaurant of the hotel offers the meals of eastern and European cuisines. Built 1855 Reconstructed 2008 NumberOfRooms 61 NumberOfFloors 2 Hotel Category SUPERIOR BUDGET Other amenities/ services Luggage service Currency exchange Bar Laundry service Gift shop Change of bed linen daily in all rooms Room-service, 24 hours a day Bathtub in all rooms.
Hotel Location :Located right in the old monument, a madrassah (religious school) of Muhammad Amin Khan in the center of Khiva, and its inner fortress Ichan Kala. CityCentre City centre – 0,1 km Description Ichan Kala Inner Town, Ota Darvaza Gates Airport Urgench – 40 km RailwayStation Urgench – 40 km.
The tour package inclusions and exclusions at a glance.
Malika Kheivak, Orient Star, Malika Khiva, Old Khiva
Khiva
Orient Star
Khiva