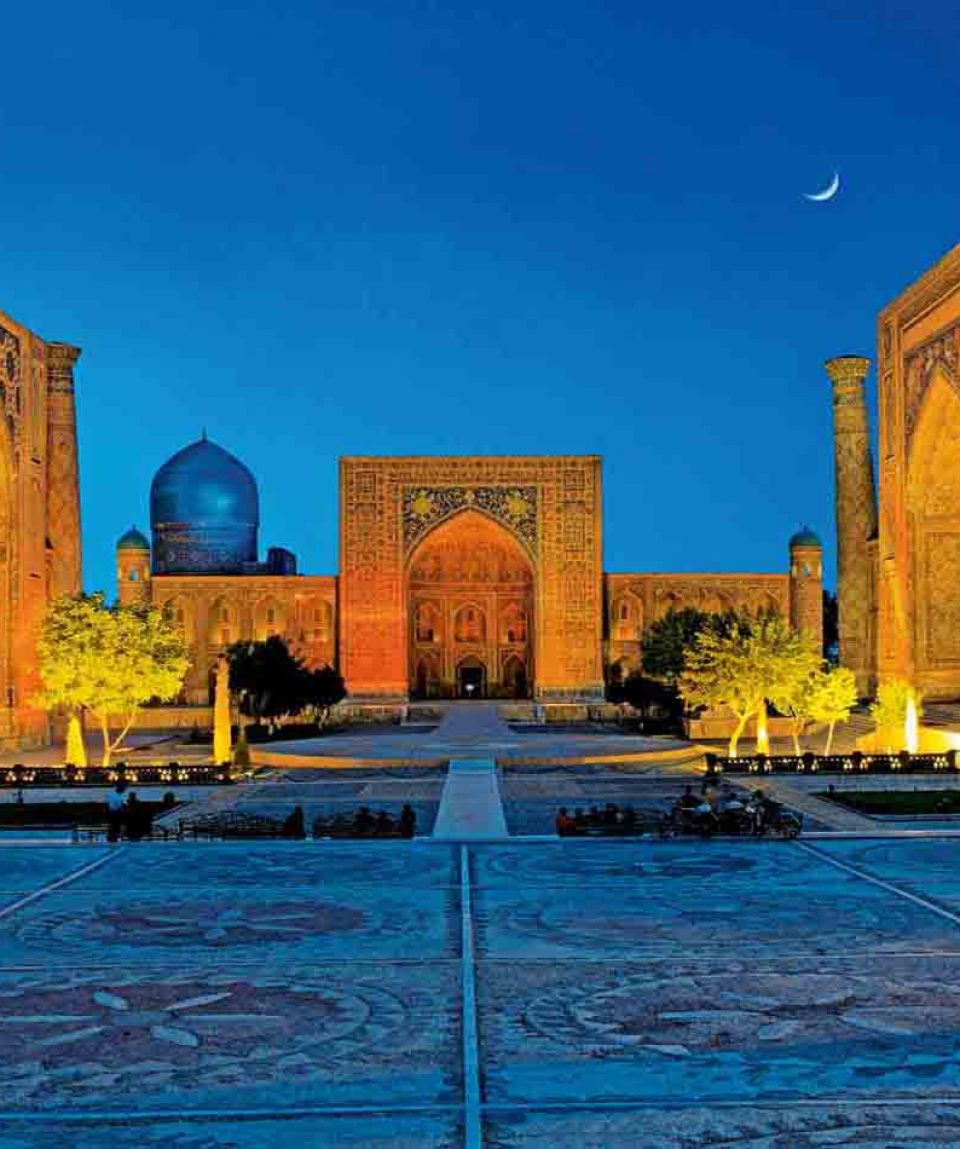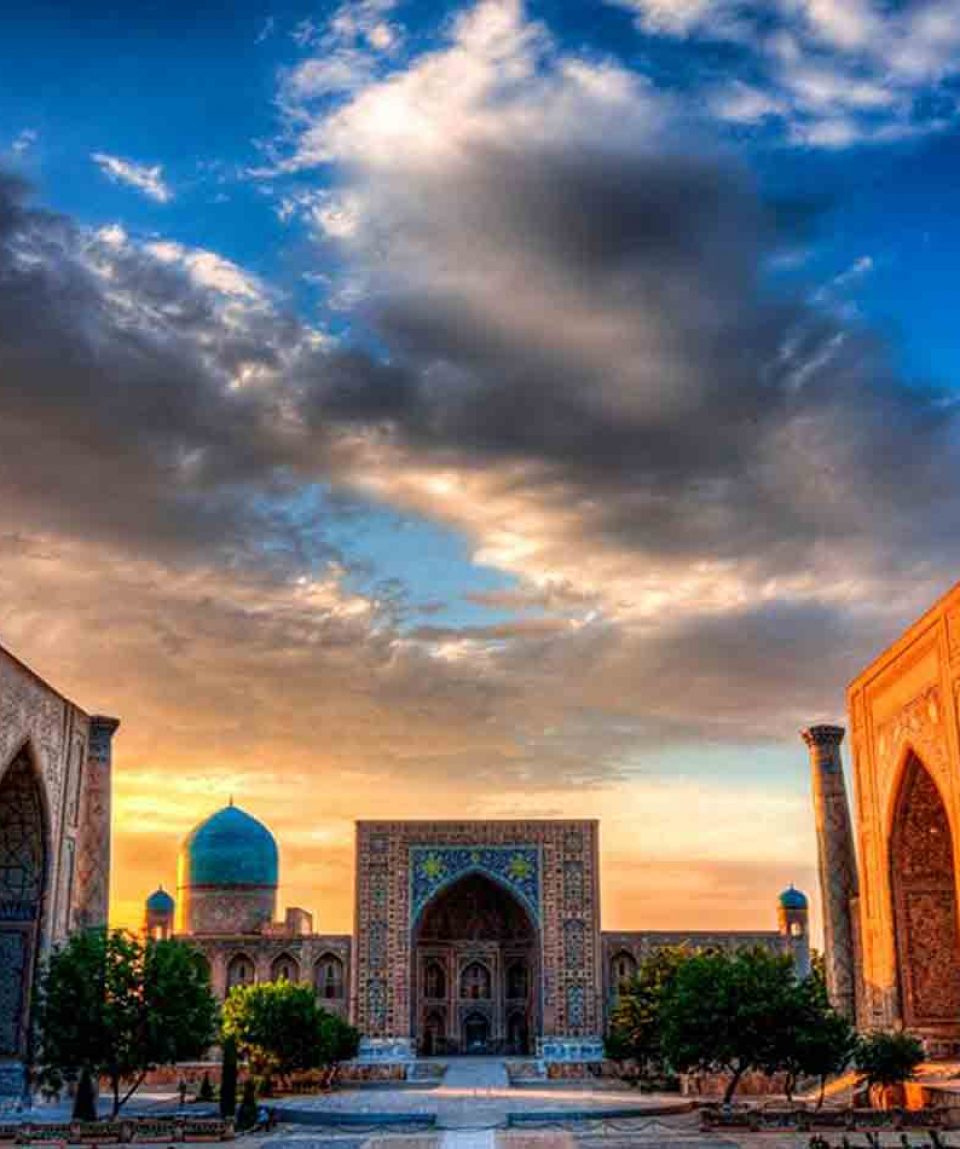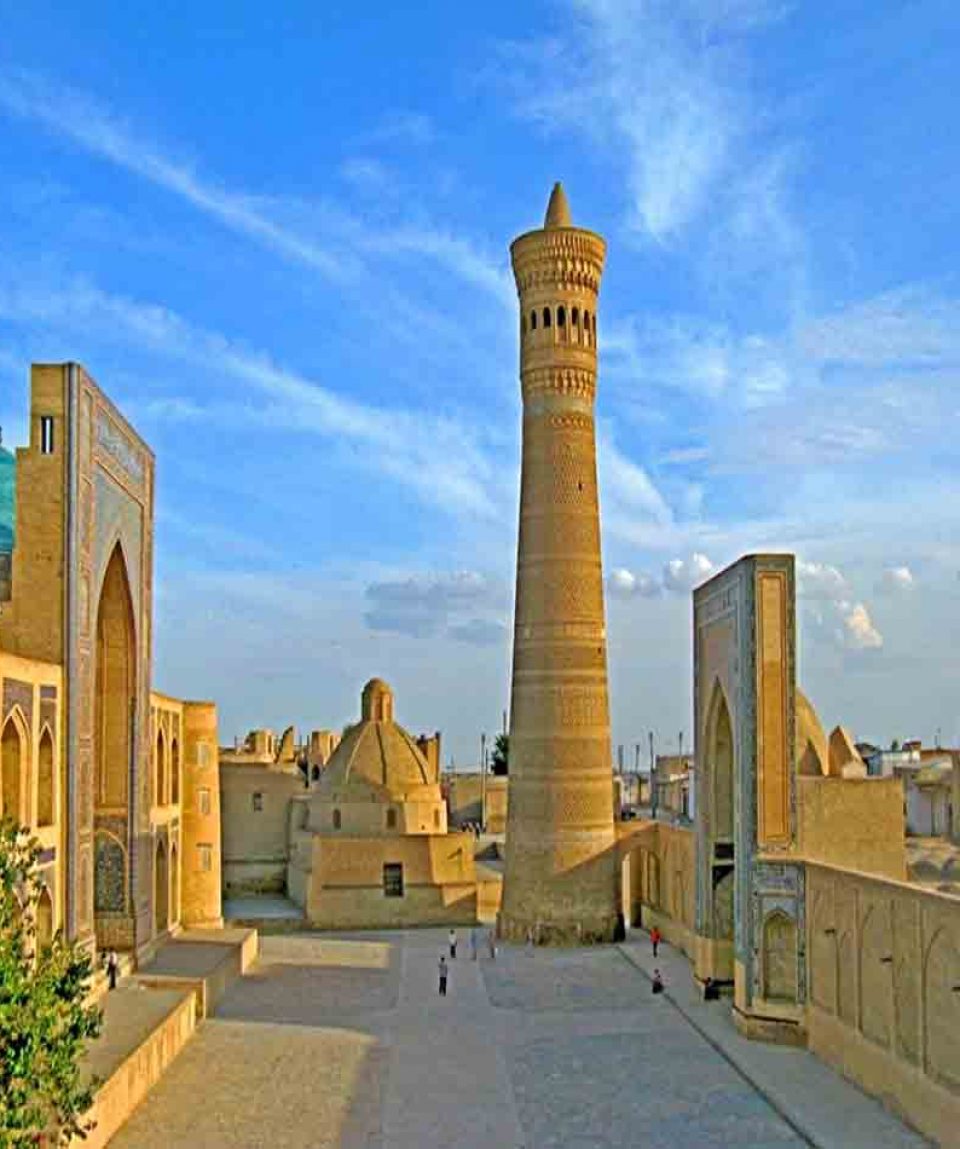 Pearl of Central Asia
Discover the Pearl of Central Asia and its historical cradle of culture with tours to Uzbekistan. 5 Nights /6 Days covers Tashkent-Samarkand-Bukhara
Vacation Style Holiday Type

Activity Level

Fairly Easy
All about the Pearl of Central Asia.
Uzbekistan Cultural tours are interesting and educational trips to different regions of the country, where you will see main sights and cultural, ancient and architectural monuments that belonged to various period and dynasties.
With Silk Road Travellers, discover the best of Central Asia, Heritage and Culture. We offer a range of Heritage & Culture tour packages that take you through the varied lifestyle, culture, religion, architecture, music, customs and tradition of various Central Asia Country and states. Uzbekistan is enriched with cultural heritage that draws tourists from in and out of country in a large number.
The region's cradle of culture for more than two millennia, Uzbekistan is the proud home to a spellbinding arsenal of architecture and ancient cities, all deeply infused with the bloody, fascinating history of the Silk Road. In terms of sights alone, Uzbekistan is Central Asia's biggest draw and most impressive showstopper.
Tashkent-Samarkand-Bukhara never fail to impress visitors with their fabulous mosques, medressas and mausoleums, while its more eccentric attractions, such as the fast disappearing Aral Sea, the fortresses of desperately remote Karakalpakstan, its boom town capital Tashkent and the ecotourism opportunities of the Nuratau Mountains, mean that even the most diverse tastes can be catered for.
Despite being a harshly governed police state, Uzbekistan remains an extremely friendly country where hospitality remains an essential element of daily life and you'll be made to feel genuinely welcome by the people you meet
The tour package inclusions and exclusions at a glance
What is included in this tour?
Items that are included in the cost of tour price.
Accommodation on SGL/Twin sharing basis in any 3* or 4* hotels + Breakfast In Tashkent, Samarkand & Bukhara;
Daily 2 water bottles 0.5L per person;
Lunches and Dinners as per the itinerary
Services of Professional English/French/German etc. speaking tour guides in all cities;
All trips & transfers in comfortable bus as per the itinerary;
Tashkent-Samarkand, Bukhara-Tashkent afrosiyob speed train economy tickets;
All fees to monuments as per the itinerary;
All Taxes.
Whats not included in this tour.
Items that are not included in the cost of tour price.
International Air tickets;
Late Check out and Early check ins;
Charges in hotels for additional services;
Photography and video making fees at the sites;
Personal insurance;
Tips and gratuities;
Any services not included in the above itinerary.
Day1

Arrival Tashkent

00:00 Arrival at Airport, meet and transfer to Hotel by our guide and driver.
Check in to the hotel.
13:00 City Tour in Tashkent to visit old and new part of Tashkent including Independence Square, Amir Temur Square, Alisher Navoi theatre from outside, Hast Imam Komplex, Kukaldash Madrasah, Monument of Courage, Russian orthodox and Catholic churches.
Lunch at local restaurant
Dinner in Nur Restaurant with dancing show program.
Overnight in Tashkent

Day2

Tashkent-Samarkand

06:00-06:30 Breakfast at your hotel's restaurant.
07:00 Check out from Hotel and Transfer to Railway station
08:00 Afrosiyob Train departures from Tashkent (343 km. 2 h.10 min)
10:10 Arrival in Samarkand
10:10 Start city tour by visiting Guri Emir mausoleum (XVc.) Then visit Registan square with 3 huge madrasahs: Ulughbek (XVc.), Shirdar (XVIIc.) & Tillakori (XVIIc.),
Shahi Zindah necropolis (XIc.) & Ulughbek Observatory (XVc.), Bibi Khanum mosque (XIV-XVc.) & Siyab bazaar for shopping
Lunch at guest house "Mubarak"
Dinner at Karimbek restaurant
Overnight in Samarkand

Day3

Samarkand-Bukhara

07:00-08:00 Breakfast at your hotel's restaurant.
08:30 Check out from Hotel and transfer to Bukhara. (280 km.-4-5 hours)
On the way visit Madrasah Char Minar. Continue drive to Bukhara. Stop on the way in Gijduvan to visit ceramics makers by traditional way.
Arrival to Bukhara. Check in Hotel. Free program.
Lunch on the way at local restaurant
Dinner at Labi hauz or Caravan restaurant (depending on weather)
Overnight in Bukhara.

Day4

Bukhara

07:00-09:00 Breakfast at your Hotel's Restaurant
Tour in Bukhara. Visit Mausoleum of Ismail Somoni and Chashma Ayub, Mosque Bolo Hauz, ARK fortress, Mosque Magoki Attor, Madrasah of Abdul Aziz khan and Ulugbek, Poi Kalyan, Masjidi Kalyan, Madrasah Miri Arab.
lunch at guest house
Dinner at Nodir devonbegi with folklore dancing program.
Overnight in Bukhara.

Day5

Bukhara-Tashkent

07:00-09:00 Breakfast at your Hotel's Restaurant
Check out from Hotel and start tour outside Bukhara city
You will visit Naqshbandi monument, Chor bakr necropolis, Sitorai Mohi Hosa
13:00 lunch at local restaurant
14:00 Transfer to Local Railway Station
15:30 Afrosiyob super speed train moves from Bukhara to Tashkent (600 km, 3 h 20 min.)
19:00 Arrival in Tashkent
Transfer to Hotel to fresh up.
20:00 Dinner at Sim Sim local restaurant
Overnight in Tashkent.

Day6

Tashkent-Departure

07:00 -09:00 Breakfast at Hotels restaurant
12:00 Check out from Hotel and transfer to airport
Ramada Tashkent, Asia Bukhara & Asia Samarkand or Regal Palace
1- Ramada Tashkent-Stay with Us in Tashkent
Close to Chorsu Bazaar and Tashkent International Airport
Our Ramada Tashkent hotel is centrally located near the business district of the city, close to shopping centers, tourist attractions, and the famous monuments of Tashkent. The city is home to several consulting firms such as Ernst and Young, Deloitte and Touche, and PricewaterhouseCoopers. Our hotel is five miles from Tashkent International Airport.
2- Asia Bukhara – is the eastern exotica with the European quality of service. The hotel has 4 * status. The convenient location, comfortable rooms, good service will enjoy a stay in the ancient city. The hotel is located near the legendary landmarks of the city, as well as the airport and the railway station.
The hotel was built in 2006, it was given the status of a 4 *. Externally similar to the Asia Bukhara from an ancient madrasahs in Bukhara which are numerous. By the way, the hotel is close to Magoki Attari (12th century) and Lyabi House (Ages 16-17) – look at the map. The advantage of Asia Bukhara, in comparison with other hotels also located in the old part of Bukhara, 95 are the presence of large numbers of sophisticated facilities, parking and an outdoor pool. Payment can be made of plastic cards, cash or bank transfer. This year, Asia Bukhara enhances guest services. The hotel offers new types of services: – Tour of the brewery "Asia" with beer tasting; – Fishing on lakes Bukhara region; – Tour of the archaeological excavations of ancient settlements Paykent, Varakhsha; – Seen ecocenter "Adelia"; – Organization of the hunt.
3- ASIA HOTELS CHAIN
Asia Hotels chain presented in Tashkent, Samarkand, Bukhara, Khiva and Fergana, is one of the largest hotels chain in Uzbekistan. Total number of rooms is 500 as of 2014. Asia Hotels is proud to be called a national hotel chain. Design, structure and interior of all the hotels meet the latest requirements of the international hotel industry. All our guests are invited to try the combination of high level service and unique Uzbek hospitality.
This is jubilee year for Asia hotels – 10 years of successful activity. Today, our hotels – is service with a time-tested quality.
The tour package inclusions and exclusions at a glance.
Ramada Hotel/ Asia Bukhara/Modarikhan
Tashkent/Bukhara
Asia Hotels / Regal Palace
Samarkand