All about the Student Uzbekistan Cultural/Train Tour 9N/10D.
Uzbekistan Cultural tours are interesting and educational trips to different regions of the country, where you will see main sights and cultural, ancient and architectural monuments that belonged to various period and dynasties.
With Silk Road Travellers, discover the best of Central Asia, Heritage and Culture. We offer a range of Heritage & Culture tour packages that take you through the varied lifestyle, culture, religion, architecture, music, customs and tradition of various Central Asia Country and states. Uzbekistan is enriched with cultural heritage that draws tourists from in and out of country in a large number.
The region's cradle of culture for more than two millennia, Uzbekistan is the proud home to a spellbinding arsenal of architecture and ancient cities, all deeply infused with the bloody, fascinating history of the Silk Road. In terms of sights alone, Uzbekistan is Central Asia's biggest draw and most impressive showstopper.
Samarkand, Bukhara and Khiva never fail to impress visitors with their fabulous mosques, medressas and mausoleums, while its more eccentric attractions, such as the fast disappearing Aral Sea, the fortresses of desperately remote Karakalpakstan, its boom town capital Tashkent and the ecotourism opportunities of the Nuratau Mountains, mean that even the most diverse tastes can be catered for.
Despite being a harshly governed police state, Uzbekistan remains an extremely friendly country where hospitality remains an essential element of daily life and you'll be made to feel genuinely welcome by the people you meet.
The tour package inclusions and exclusions at a glance
What is included in this tour?
Items that are included in the cost of tour price.
Accommodation on SGL/Twin sharing basis in any B&B + Breakfast In Tashkent, Khiva, Samarkand & Bukhara;
Airport/railway/between cities transfers in comfortable bus as per the itinerary;
Tashkent-Urgench night train compartment class ticket;
Bukhara-Samarkand, Samarkand-Tashkent "Afrosiyob" super speed train and Tashkent-Andijan fast train economy class tickets;
All Taxes
Whats not included in this tour.
Items that are not included in the cost of tour price.
International Air tickets;
Lunches and Dinners
City tours
Services of Professional French/English/Russian/Turkish etc. speaking tour guides in all cities;
Late Check out and early check in;
Charges in hotels for additional services;
Photography and video making fees at the sites;
All fees to monuments as per the itinerary;
Personal insurance;
Tips and gratuities;
Any services not included in the above itinerary.
Day1

Arrival Tashkent

00:00 Arrival at Airport, meet and transfer to Hotel by our guide and driver.
Check in to the hotel.
Overnight in Tashkent city at hotel.

Day2

Tashkent-Urgench-Khiva

08:00-09:00 Breakfast at your Hotel's Restaurant.
09:00 City Tour in Tashkent to visit old and new part of Tashkent including Independence Square, Amir Temur Square, Alisher Navoi theatre from outside, Museum of Applied Art, Hast Imam Komplex, Kukaldash Madrasah, Monument of Courage, Russian orthodox and Catholic churches.
Transfer to Tashkent Railway Station to departure to Urgench city
20:00 Train departures from Tashkent
12:30 Arrival in Urgench city (next day) 1080 km.
Overnight in Train (kupe-compartment Class)

Day3

Urgench- Khiva

Breakfast will not be provided in Train.
12:30 Arrival in Urgench city and Then transfer to hotel and check in Hotel.
16:00 Transfer to Tozabog palace-Summer Palace of Khiva Emirs (2 km). The summer residence was built in 1897 by order of the Khiva Khan Muhammad Rahimhan II.
18:00 Drive back to Ichan Kala to see folklore dance.
Overnight in Khiva at hotel.

Day4

Khiva

07:00-09:00 Breakfast at your Hotel's Restaurant
09:30 Start tour in Ichan Kala to visit Itchan-Kala Fortress which is a UNESCO World Heritage site. You will visit Mukhammad Aminkhan Madrasah, Mukhammad Rahimkhan Madrasah, Kalta-Minor, Juma Mosque, Tash-Khovli Palace, Pakhlavan Makhmud Mausoleum etc.
Overnight in Khiva at Hotel.

Day5

Khiva-Bukhara

07:00-09:00 Breakfast at your Hotel's Restaurant
Check out from Hotel and transfer to Bukhara by car. (480 km.- 6 h.)
Arrive to Bukhara. Check in Hotel.
Overnight in Bukhara at hotel.

Day6

Bukhara

07:00-09:00 Breakfast at your Hotel's Restaurant
Tour in Bukhara. Visit Mausoleum of Ismail Somoni and Chashma Ayub, Mosque Bolo Hauz, ARK fortress, Mosque Magoki Attor, Madrasah of Abdul Aziz khan and Ulugbek, Poi Kalyan, Masjidi Kalyan, Madrasah Miri Arab. Ulugbek Madrasah, Lyabi Haus
Overnight in Bukhara at Hotel.

Day7

Bukhara-Samarkand

07:00-08:00 Breakfast at your hotel's restaurant.
08:30 Check out from Hotel and transfer Outside Bukhara city tour to visit : Sitorai Mohi Khosa-Summer residence of last Emir of Bukhara , Chor Bakr necropolis, Mausoleum of Naqshbandi, Chor minor.
14:30 Transfer to Kogon city Railway station to departure to Samarkand city.

15:30 Train departures from Kogon
17:00 Arrival in Samarkand city and transfer to Hotel
Overnight in Samarkand city at Hotel.

Day8

Samarkand

07:00-08:30 Breakfast at your hotel's restaurant.
09:00 Start city tour by visiting Guri Emir mausoleum (XVc.) Then visit Registan square with 3 huge madrasahs: Ulughbek (XVc.), Shirdar (XVIIc.) & Tillakori (XVIIc.), Bibi Khanum mosque (XIV-XVc.) & Siyab bazaar and Museum "Afrasiyoab".
Overnight in Samarkand.
07:00-08:30 Breakfast at Hotel's Restaurant

Day9

Samarkand- Tashkent

07:00-08:30 Breakfast at Hotel's Restaurant
09:00 Continue tour in Samarkand city and visit: Konigil village to see the traditional way of making paper, Ulughbek Observatory (XVc.), Saint Daniil, Shahi Zindah necropolis (XIc.)

16:00 Drive to Samarkand Local Railway station to transfer to Tashkent by "Afrosiyob" super speed train.
17:00 Train Departs from Samarkand and 19:10 reaches Tashkent.
Transfer to Hotel check in.
Overnight in Tashkent.

Day10

Tashkent-Departure

07:00 -10:30 Breakfast at Hotels restaurant
12:00 Check out from Hotel and transfer to Tashkent International Airport.
End of the Tour.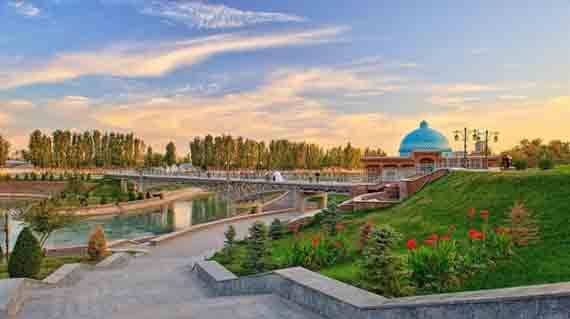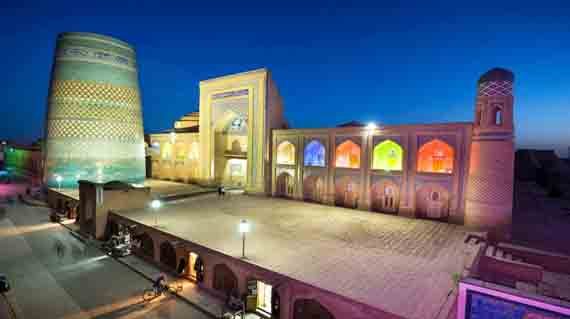 Rustam and Zukhra B&B - Bukhara
Art Hostel – Tashkent
Rustam & Zukhra Bed & Breakfast is located in UNESCO Heritage listed Bukhara Old Town, within a 5-minute walk from famous mosques. Free Wi-Fi is provided.
All bright rooms come with air conditioning and cable TV.
A home-style breakfast is served every morning on the open terrace or in the living room. Various cafes, bars and restaurant can be found within a 10-minute walk from the property.
Rustam & Zukhra offers a 24-hour reception and the on-site tour desk. The property features a bike rental.
Nuder-Devon-Begi Madrasah is 500 m from the property, and the Kurpa Mosque is 800 m away.
The distance to Bukhara International Airport is 6 km.
We speak your language!
Rustam & Zukhra has been welcoming Booking.com guests since 28 Jun 2013.
Bed and breakfast: 12 rooms
Meros B&B – Khiva
Rustam and Zukhra B&B – Bukhara
Jahongir B&B – Samarkand
Rustam and Zukhra B&B - Bukhara